Ybor City, Florida
Ybor City Food & History
Ybor (pronounced "Eee-bor") a little slice of Cuba just east of downtown Tampa, Florida. Besides Little Havana in Miami, it's probably about as close to Cuba as you can get without leaving the mainland. I only spent a couple hours there but immediately fell in love so I thought I'd share some highlights from my little detour.
YBOR HISTORY
Due to Spanish turmoil in Southern Florida during the early nineteenth century, Cuban cigar manufacturers were looking for a safe place to escape to with more land to expand their production. What they found was Tampa which at the time was unsettled with little infrastructure. So they attracted skilled workers to the area by building a community and homes for them to live in.
Quickly, word of this bustling area spread to other immigrant populations, including the Germans who didn't have cigar making skills so they found other jobs or created their own businesses. Over time, family restaurants and shops began to populate the area and the city of Tampa grew as a result.
COLUMBIA RESTAURANT
One of the earliest places to eat in Ybor City was Columbia. Established in 1905, it's now a 5th generation family restaurant. What began as a coffee and sandwich shop has become home to traditional Cuban tapas for more than the past century – it now takes up nearly two blocks of the main drag of Ybor (7th Street) including a gift shop and multiple special event spaces. (Read more about its history here).
The building itself is gorgeous! Retro neon signs, gold trim, beautiful iron rod light fixtures and Spanish tile adorn the facade. And the inside architecture was equally as beautiful.
We entered through the heavy wooden doors and were pleasantly surprised to see a packed lobby full of people waiting. (You know that's a good sign, especially when it's for lunch…on a Monday). We put our name on the list and headed to the bar to grab a drink and admire the ambiance.
As we sat at the bar I looked around and was immediately transported back in time. Sangria served in their famous clay pitches and Estrella served on tap. The bar area was surrounded with framed cigar wrappers and family portraits. I couldn't help but think of the stories from locals that happened here.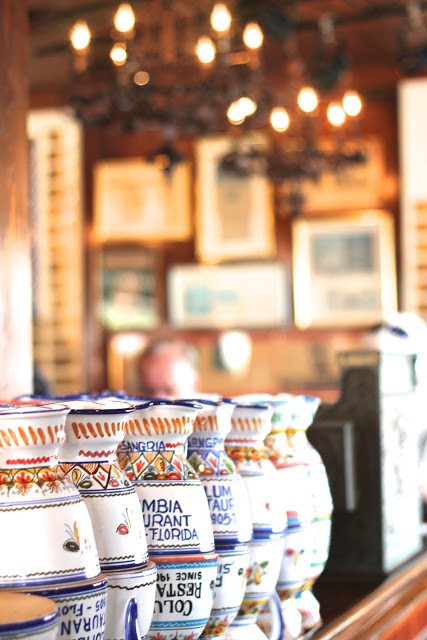 The main dining area is filled with fountains and arched doorways and a combination of chandeliers and natural light pouring through the stained glass windows. Around every nook was another cranny of a room with stunning art, color and design. Even the title floor was worth photographing.
Waiters dressed to the nines in black and white suits with bow ties and coattails. Guests were treated like royalty, yet the atmosphere was inviting and unpretentious. The food was simple, yet delicious. Everything about the experience was an utter delight.
In addition to traditional dishes like homemade warm, flaky bread (served with a ramekin of salted butter) and of course Cuban sandwiches, they had a variety of seafood options including Paella and lobster flatbread, all served spicy and family style. (Think tapas with a Cuban kick). If you go, you must get (or at least admire) the Sangria served table side and try the 1905 Sauce (apparently their 1905 salad is good too).
We didn't have time to experience Ybor City to its fullest – including the nightlife (since we had to catch a flight home to DC) but on the way out of town did have time to stop by the José Martí Park; a tribute to Cuban hero José Julián Martí Pérez which is technically Cuban soil (first photo above).
If you go, definitely stop in the gift shop to take home a piece of family history (or a Cuban cigar). And if you can't make it to the original location of Columbia, they have a few other locations throughout Florida (including the Tampa airport) so you can get a taste of Cuba elsewhere too!
Hope you enjoyed this visual adventure as much as I did experiencing it!